A Christmas Surprise
The kids have always wanted a dog, and they've been asking ever since we moved out to our farm. But so many things stood in the way: fencing, training, fears and so many other things. But when Mom and Dad saw an ad that some of our friends had posted about a litter of Aussie Shepherd-Scotch Collie pups, it seemed like a work of God. They lived fifteen minutes from the Ark Encounter, which we've wanted to revisit since we first went. They were also willing to let us stay at their house while we met the puppy and went to the Ark. Everyone thought it was an awesome Christmas present, and so a few days after we saw the ad, we were off to redeem our pup.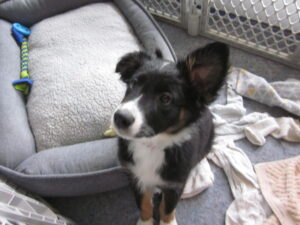 A Work of God
We had set our sights on the firstborn pup, a little guy named Gopher. At first, we thought about changing his name, but "Gopher" began to grow on us during our three-day stay in Kentucky. Some of the names we had been thinking about were Ransom, Kelev (the Hebrew word for dog, aka Caleb), Tal and Scout. The really cool thing is, the Hebrew word for ransom is Kopher, which is really close to Gopher! So, of course we had to keep the name.
Gopher's Life on the Homestead
Nobody's perfect, including Gopher. He barked all night on his first day home, leaving us bleary-eyed in the morning. But he's a really good boy during the day. He knows to go to his bed when we tell him to, and he's working on "sit."  He loves to play tug of war with a homemade chewer and would follow us around everywhere if he could. Unfortunately, he does not get along with our two cats. Whenever he sees them he goes into a frenzy, grabs them and shakes them around. Dad is a bit pessimistic on the subject, saying that one day we'll only have one cat around. The cats don't help matters much, either. They love to get as close as possible, and often, we only just rescue them. If they do get caught, we take their side and try to rescue them as soon as possible. They help out with their claws, too. If nobody gets hurt, it's kind of funny.